What do YOU have to say about fatherhood — in 6 words?!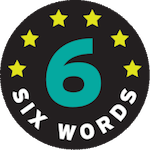 FATHERHOOD.  In Six Words?
Yes, that's what we're asking you. (< see, that was 6 words!)
Here's the deal: We're partnering with Smith Magazine's Six-Word Memoir project to gather thoughts on fatherhood from Oregon dads. Then we're going to share them, in a variety of ways.
One thing: It can be addictive. If you write more than one (we all did), please submit your favorite.
Go ahead, whittle down fatherhood into a mere six words!  Here are a few to get you thinking:
Loud, exhausting, rewarding, funny, ridiculous, perspective.
All I want is more time.
Homer no function beer well without (okay, that's a tv dad).
But you get the idea. It's your turn! Just type your six words here, then ask your friends to jump in.  The more voices we can gather, the better.
[Please know that we may use your submission along with your name in our web & print materials]