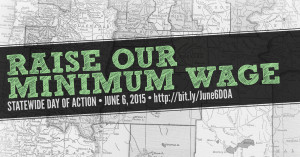 On Saturday, June 6, supporters will be gathering across the state to have conversations about why it's so important that legislators commit to raising the wage for working families struggling to get by. 

We're working with the Fair Shot for All coalition to make this Day of Action a success — and we need your help!
Click here to find a meeting place near you.  We'll be in Bend, Eugene, Portland and Salem!
The current minimum wage is so low, hundreds of thousands of Oregonians are working full-time but still have a hard time making ends meet. This is an issue that shouldn't fall by the wayside: Legislators are turning the final corner of session, but they've showed signs they'd rather kick the can down the road. For the single mother working two minimum wage jobs who still comes up short at the end of the month, action on the minimum wage cannot wait.
That's why we're taking this conversation to the streets. This Saturday, the Fair Shot For All Coalition and the Minimum Wage Coalition are heading to legislators' districts all across the state to send an important message: Tell your legislator to raise the minimum wage this session!